Welcome to the largest games credit reload service in Malaysia with super easy gaming reload solutions for those without credit cards and online banking. Republic.GG, your one-stop gaming command centre.
We are Republic.GG
Here's the easiest, most secure, games credit reload service that rewards you for every transaction. Choose from our legion of games and get your gaming credits on the spot. Simply use your Digi Prepaid Reload or charge it to your Digi account and a goldmine of rewards is yours. The more you reload, the more you'll be rewarded.
Partner up with Republic.GG
Widen your reach in the gaming world with Republic.GG by Digi.
As Malaysia's Largest Network, we have a whopping:
11.7 million
customers
+ 10 million
monthly page views
+ 2.7 million
unique MyDigi app users
+ 14,000
touchpoints
over 300
stores
Leveraging on the reach we have, Republic.GG is set for success.
As partners, you will have the privilege of using our campaign engines, media space, data analytics & insights, and our myriad of customer engagement platforms.
Most importantly, we offer optimum results, because with our seamless payment options of Direct-Operator-Billing and Digi Prepaid e-wallet, it's always a win-win for all.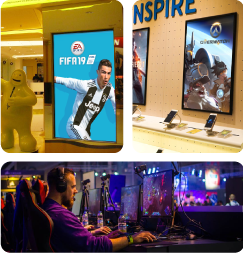 Business (Partner With Us)
Please fill in the form below if you are looking for opportunities to partner with us.